HOGTOWN CRAFT BEER FESTIVAL
TICKETS
Your Hogtown Craft Beer Festival ticket entitles you to sample beers from various local, regional, and national breweries. Plus, your ticket can be used for beer specials during Gainesville Craft Beer Week! Tickets for the 2017 festival are $45.00
TICKETS ARE CURRENTLY SOLD OUT. TICKETS WILL NOT BE AVAILABLE AT THE VENUE DAY OF EVENT. WE LOOK FORWARD TO SEEING EVERYONE THIS SATURDAY!
DISCLAIMER
All tickets are non-refundable. No outside alcohol will be permitted. Event will occur rain or shine. All attendees must be at least 21 years of age. IDs will be checked upon entrance to the Festival. ALL attendees must bring valid identification. No ID = no admittance OR refund, even if you have a ticket. Vendors reserve the right to refuse to serve any attendee who is deemed too intoxicated or disruptive. Please drink responsibly and know your limit!
FOOD
Some of the best local restaurants and caterers will have terrific food & cuisine available for purchase. Many of these entrees will have a delicious beer sample to pair with it.
DESIGNATED DRIVERS
There is no charge for individuals attending the Festival as designated drivers for attendees.
CHILDREN/MINORS
Any minors in the beer festival area must be supervised by parent/guardian. Unsupervised minors are required to leave the beer festival area.
PETS
Any pets in the beer festival area must be on a leash and with their owners at all times. Unsupervised pets are required to leave the beer festival area and owners will be required to wear a leash!
HOTEL
Coming from out of town and need a room to stay? We recommend checking out the Hampton Inn of Gainesville, a sponsor of the Hogtown Craft Beer Festival. To reserve your room, call for reservations at 352-371-4171, or go to hamptoninn3.hilton.com. The Hampton is located at 4225 SW 40th Blvd., Gainesville, Florida, 32608.
OVERVIEW
Please join us at the 2017 Hogtown Craft Beer Festival where you can enjoy great beer and food, and learn more about the amazing diversity of beer produced at the local and regional level!


What you can expect:
Craft beer from most Florida craft breweries and brewpubs in addition to beers from many other regional and national craft breweries
Food and craft beer pairings from local Gainesville area restaurants and caterers
Educational beer seminars
Homebrewing demonstrations
A beautiful outdoor setting to enjoy craft beer, and more
Hogtown Craft Beer Festival T-Shirts
Show your craft beer pride by wearing one of these spiffy 2017 Hogtown Craft Beer Festival T-shirts. These shirts will be available at a cash price of $15 at the beer fest for both men's and women's styles.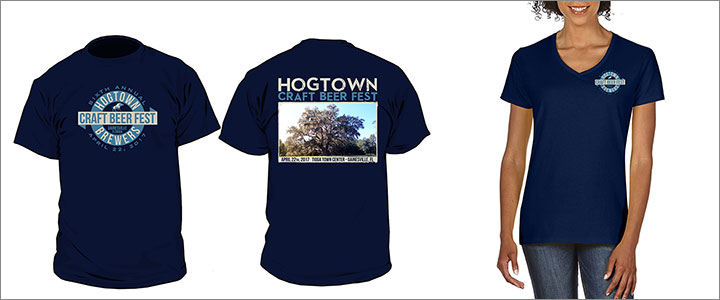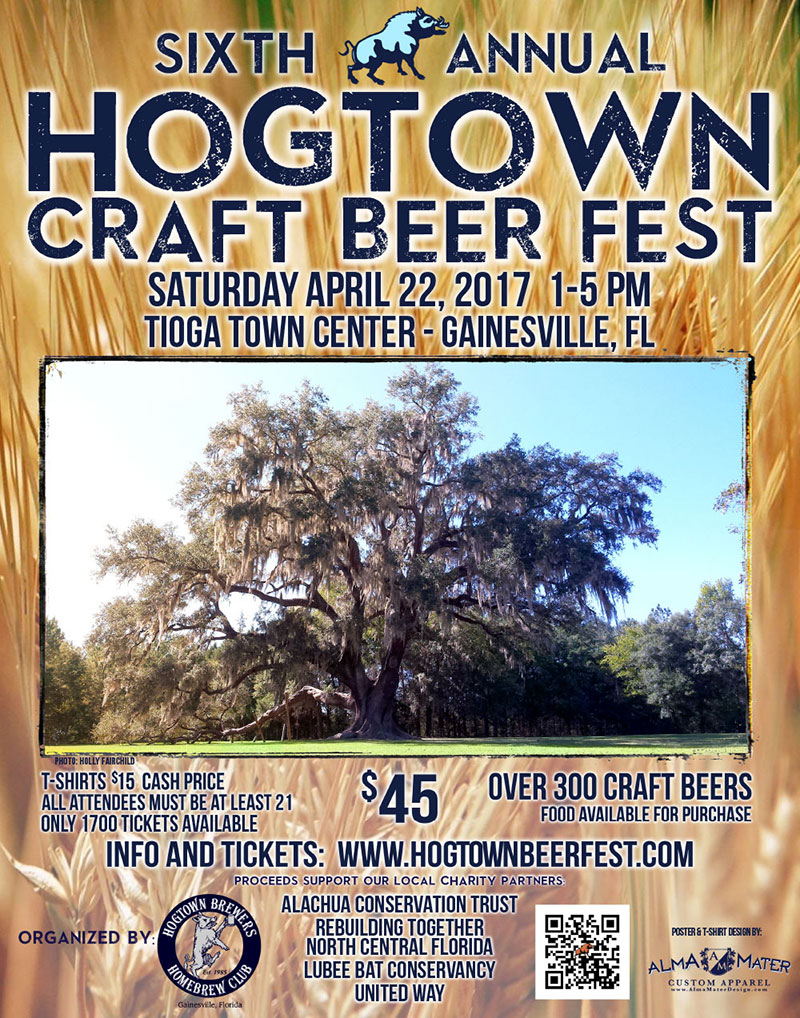 About the Hogtown Brewers
The Hogtown Craft Beer Festival is organized by The Hogtown Brewers, Gainesville's local non-profit homebrew club (winner of the 2016 AHA Radegast Homebrew Club of the Year)! Since 1985, the Hogtown Brewers have been promoting brewing and craft beer through classes, educational brewing events, competitions, beer/food pairings, and other activities.

We currently have over 200 members which include multiple professional brewers (guess who?), numerous medal winners in state and regional competitions, plus a healthy gaggle of BJCP homebrew competition judges (including master and national level judges). Our members are from a diverse range of backgrounds and professions, but we all share a passion for brewing, beer science, and all things craft beer.

For more information about us, please visit www.hogtownbrewers.org.